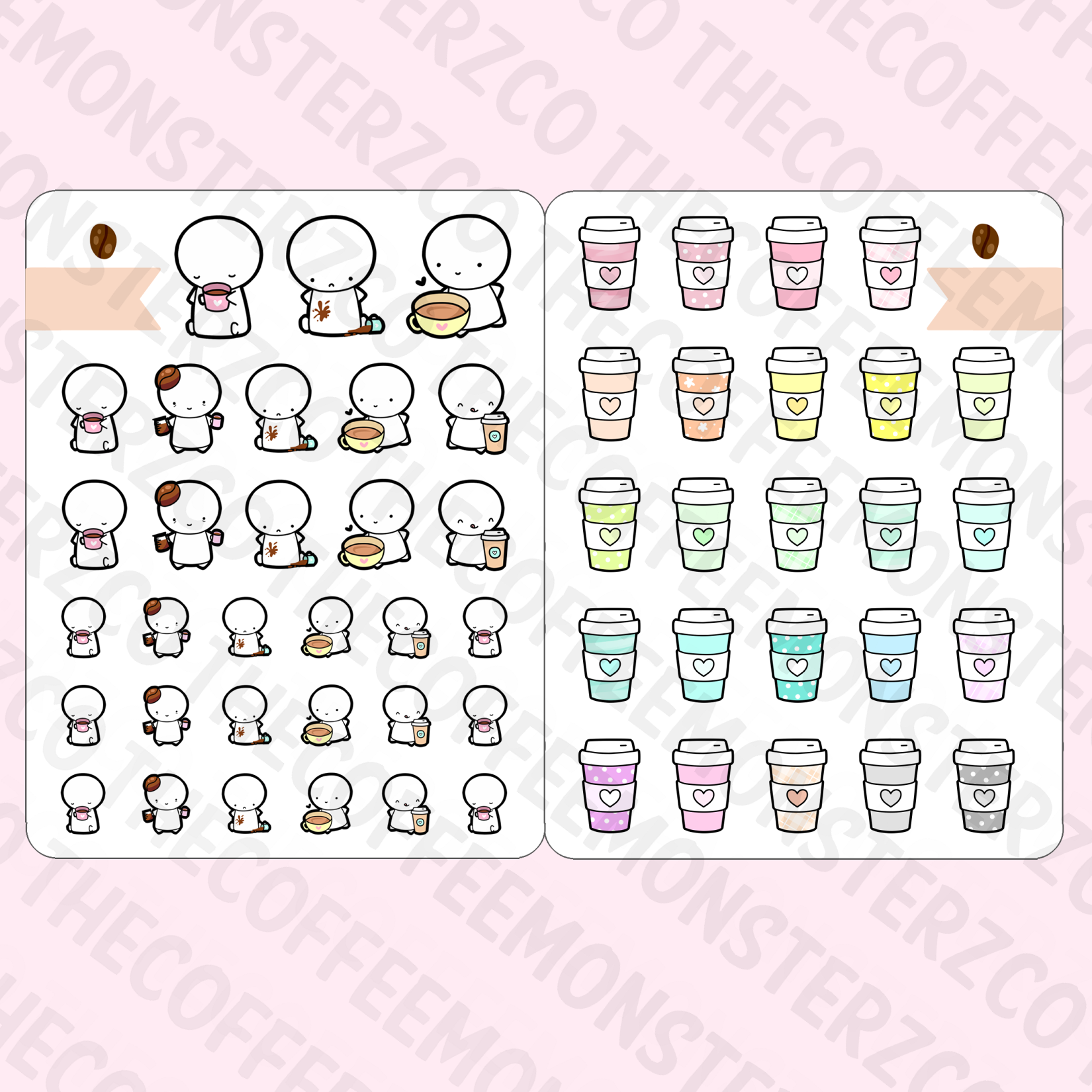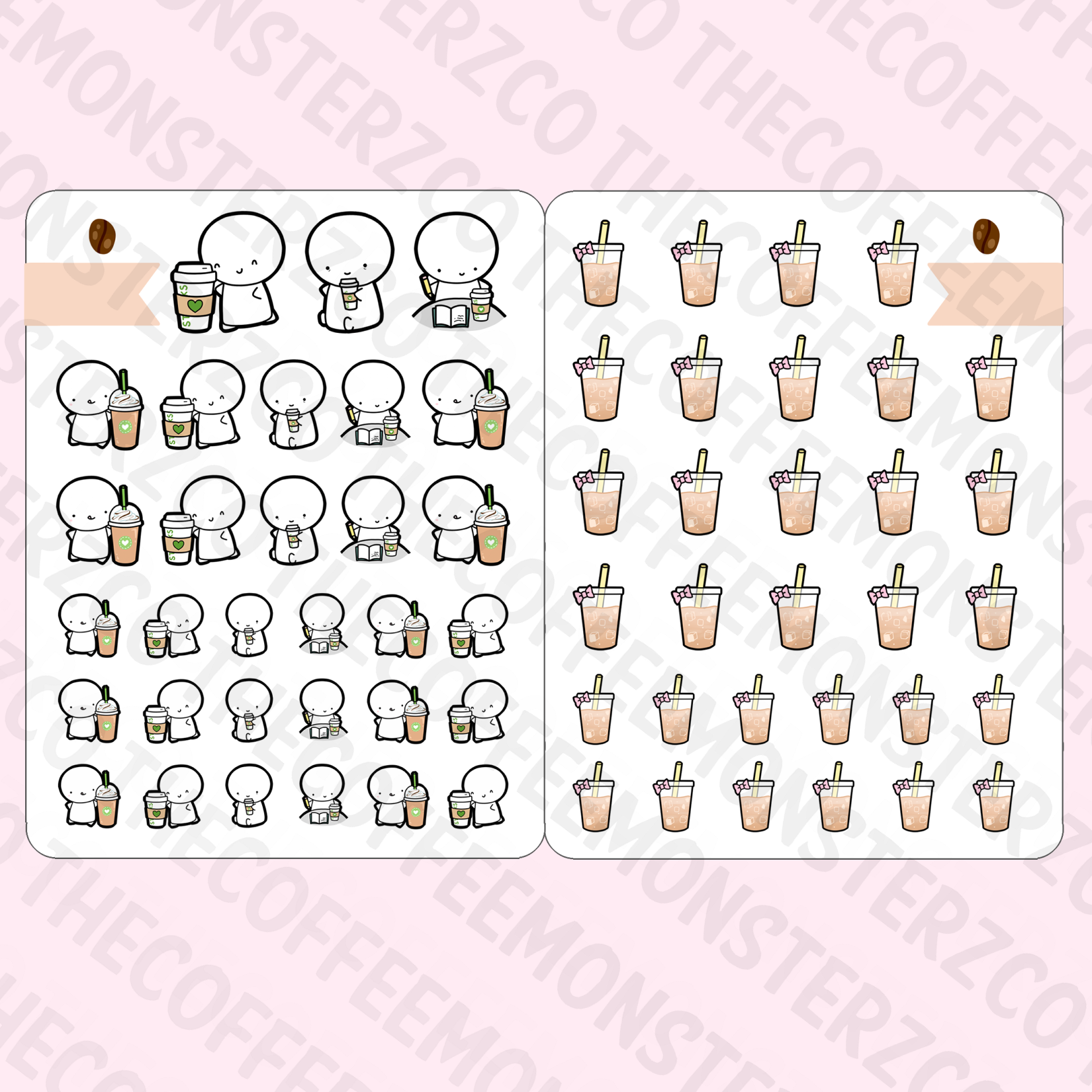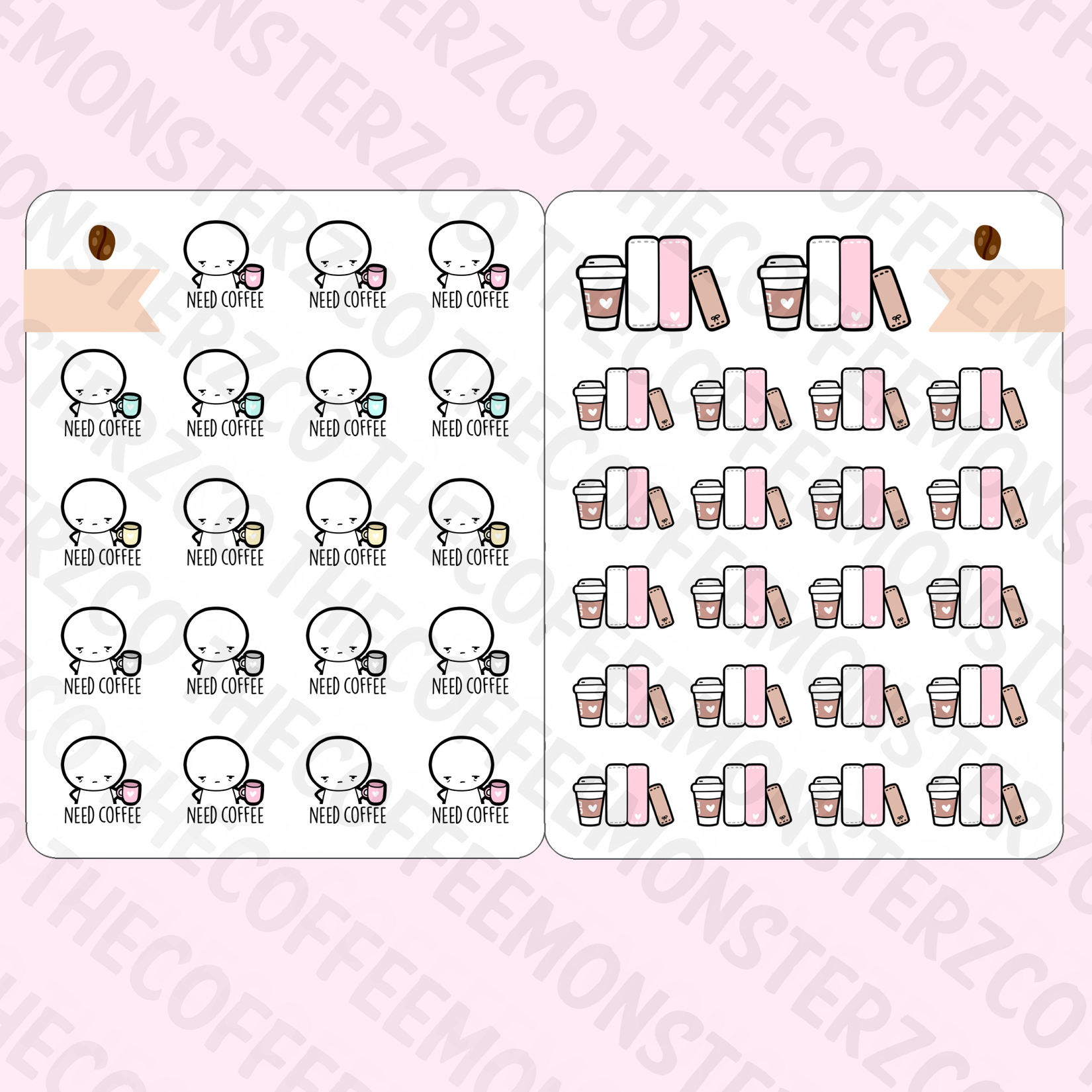 Coffee Addict Sticker Book (8 Pages)
♥ Our original sticker books are perfect for planning on the go, or to purchase as a bundle if you are new to planning! The Coffee sticker book contains the following 8 pages as shown in the listing photo:

| | |
| --- | --- |
| Page 1: Coffee Emotis | Page 5: Coffee Functionals |
| Page 2: Starbucks Emotis | Page 6: Coffee & Planners Doodles |
| Page 3: Need Coffee Emotis | Page 7: Iced Coffee Doodles |
| Page 4: Coffee Cup Emotis | Page 8: Coffee Cup Doodles |
♥ Sizing: The sticker book measures approximately 3.5" X 4.7"
♥ Material: The highest quality setting is used to print on a sturdy, matte sticker paper. Colour may vary from monitor to monitor. Your product will not have a watermark.
♥ Any props shown in the listing photo (washi, pens, clips, etc.) is not included unless otherwise stated. 
♥ Thank you for shopping at TheCoffeeMonsterzCO! Your support means the world to me :)
Our standard stickers use matte non-removable sticker paper. Each sheet is kiss-cut for you to use right away! We do sometimes dabble in other fun materials like washi sticker paper, weatherproof vinyls, and more. This will be stated in the description.
Any props shown in the listing photo are not included as part of the purchase. Your product will not be watermarked.
We offer both lettermail and tracked package shipping at checkout. We also have a shipping estimate function on our cart page to get a more accurate price quote!
Our processing times are always listed on the announcement bar at the top of the website to reflect the most accurate estimate.*
Orders are packaged with a free sticker sampler and journaling card, shipped from Canada.
*Preorders are an exception. Please refer to the description of the preorder product for the estimated shipping time.
OMG 😍
Helen you've done it again! I can't believe how cute and perfect this book is 😍 thank you so much
Everything coffee
I love coffee and I love this coffee emoti sticker book.
Amazing
I am never disappointed with this
I love it so so much :heart_eyes::heart_eyes::heart_eyes::heart_eyes::heart:️:heart:️:heart_eyes::heart_eyes:
Coffee is life
The color schemes are on point and has all your coffee needs Cx
stationery
for all planners
We offer a selection of stickers and planner supplies that can be used to jazz-up any planner. If you need suggestions for getting started, here are our top 10 favourites!
read more