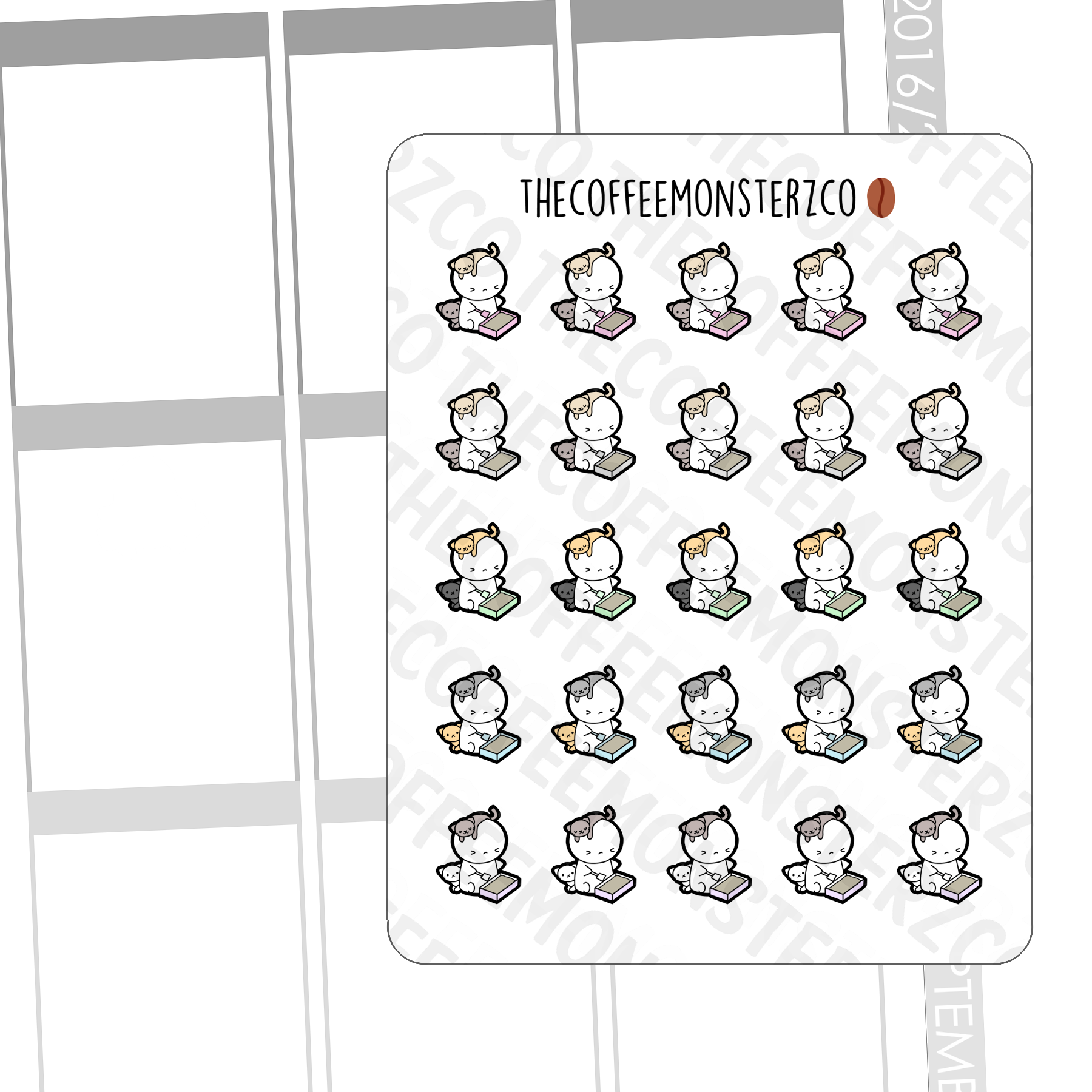 Scoop their litter, feed them regularly, give them kisses, then possibly get some cuddles back!
Copyright © TheCoffeeMonsterzCO 2021
Our standard stickers use matte non-removable sticker paper. Each sheet is kiss-cut for you to use right away! We do sometimes dabble in other fun materials like washi sticker paper, weatherproof vinyls, and more. This will be stated in the description.
Any props shown in the listing photo are not included as part of the purchase. Your product will not be watermarked.
We offer both lettermail and tracked package shipping at checkout. We also have a shipping estimate function on our cart page to get a more accurate price quote!
Our processing times are always listed on the announcement bar at the top of the website to reflect the most accurate estimate.*
Orders are packaged with a free sticker sampler and journaling card, shipped from Canada.
*Preorders are an exception. Please refer to the description of the preorder product for the estimated shipping time.
Perfect for a cat lover like me!
I love this emoti sheet because I am a cat lover. I got this and the kitty cat onesie sheet. We have one orange cat and one gray cat so this is really perfect for me.
We love cats!
We have too many pets of our own to use pet stickers regularly (2 dogs and 2 cats, someone always needs something & I'd need a whole separate planner for them!) but I got these for my college-aged daughter who just got a new kitten of her own. She loves them, and I did steal a few for myself because Helen's stickers are just too cute to pass up.
Great for me
I foster kittens so when the person I affectionately call "the crazy cat lady" needs me for whatever reason, I use these to mark her dropping off a new kitten or meeting her at the vet or something like that.
OMG the cuteness overload
I just don't even know what to say, the drawings are SO FREAKING CUTE and the sticker quality is lovely. I placed a first-time order recently of a bunch of designs and made the mistake of taking the envelope with me to work... all day long I'd stop what I was doing and pull out of my pack of stickers and just flip through them smiling. I swear this was one of the few times in life where seeing the product in person was even happier than the initial excitement of ordering, haha.
stationery
for all planners
We offer a selection of stickers and planner supplies that can be used to jazz-up any planner. If you need suggestions for getting started, here are our top 10 favourites!
read more