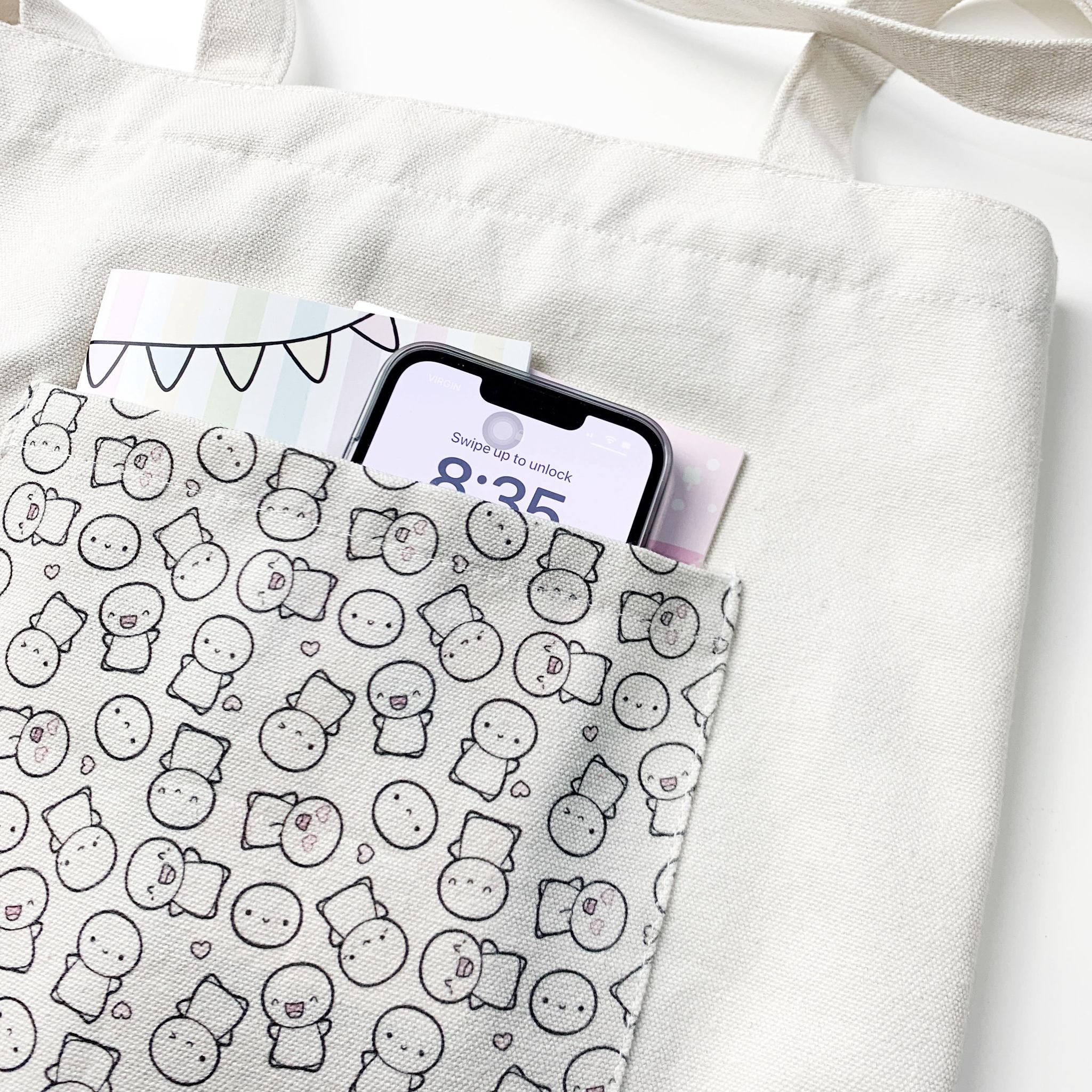 Planner Supplies - "More Than A Tote" Tote Bag
coming soon
This product is limited to

2 per customer

until we sell out. When this product sells out, it will be available as an unlimited preorder in which the processing time is up to

3 months

. If preordering, we highly recommend for you to place your preorders separate from regular stock items to avoid delaying your entire order!
Our first ever tote bag is here! But this is much more than just a tote bag. From the stitching, to the material, to the design and build of this bag, everything is unique to TheCoffeeMonsterzCo. This tote features a flattering taper to a flat bottom to ensure it is spacious enough for everything you want to carry! There is a drop piece with 3 pockets: a larger pocket perfect for phones, and two smaller pen sleeves. Lastly, there is an adorable patterend back pocket for even more knick knacks.

○ Tote opening width: 34cm (13.5")
○ Tote height: 37cm (14.5")
○ Tote bottom: 11.5cm x 24cm (4.5" x 9.5")
○ Strap drop length: 30cm (11.75") this means when you hold the tote bag by the center of the straps, the measure between the middle of the strap to the top of the tote opening is 30cm
○ Patterned back pocket: 17.7cm x 17.7cm (7" x 7")
○ Inner phone pocket: 10.8cm x 12.7cm (4.25" x 5")
○ Two inner pen sleeves: 2.8cm x 12.7cmm (1.1" x 5")
The above dimensions are averages. Please allow for some leeway for variations between totes.

Copyright © TheCoffeeMonsterzCO 2021
Our standard stickers use matte non-removable sticker paper. Each sheet is kiss-cut for you to use right away! We do sometimes dabble in other fun materials like washi sticker paper, weatherproof vinyls, and more. This will be stated in the description.
Any props shown in the listing photo are not included as part of the purchase. Your product will not be watermarked.
We offer both lettermail and tracked package shipping at checkout. We also have a shipping estimate function on our cart page to get a more accurate price quote!
Our processing times are always listed on the announcement bar at the top of the website to reflect the most accurate estimate.*
Orders are packaged with a free sticker sampler and journaling card, shipped from Canada.
*Preorders are an exception. Please refer to the description of the preorder product for the estimated shipping time.
Perfect Sized Tote w/ Convenient Compartment
This tote is sturdy and big enough to carry many things. The compartment inside allows me to carry pens, wallet, phone, keys, etc. so I won't have to scramble for them in my bag.
The tote bag of my dreams
I'm so happy that I managed to get this tote - it's perfect! I take it everywhere. On top of a beautiful print it has great quality. I love the little compartments - after years of struggling to find my pen I no longer have to look for it everywhere because it has its special place. Honestly, I can't recommend it enough. Hope it will be back in stock one day!
My planner tote!
This tote fits everything! And I mean everything!! I fit my planner, a notebook, a reusable sticker album and regular sticker album as well as 2 pencil pouches!!! (One holds my washi) AND THERE IS STILL SPACE!!! Floored by how amazing it is!
That tote bag is adorable, so happy that I got one
stationery
for all planners
We offer a selection of stickers and planner supplies that can be used to jazz-up any planner. If you need suggestions for getting started, here are our top 10 favourites!
read more