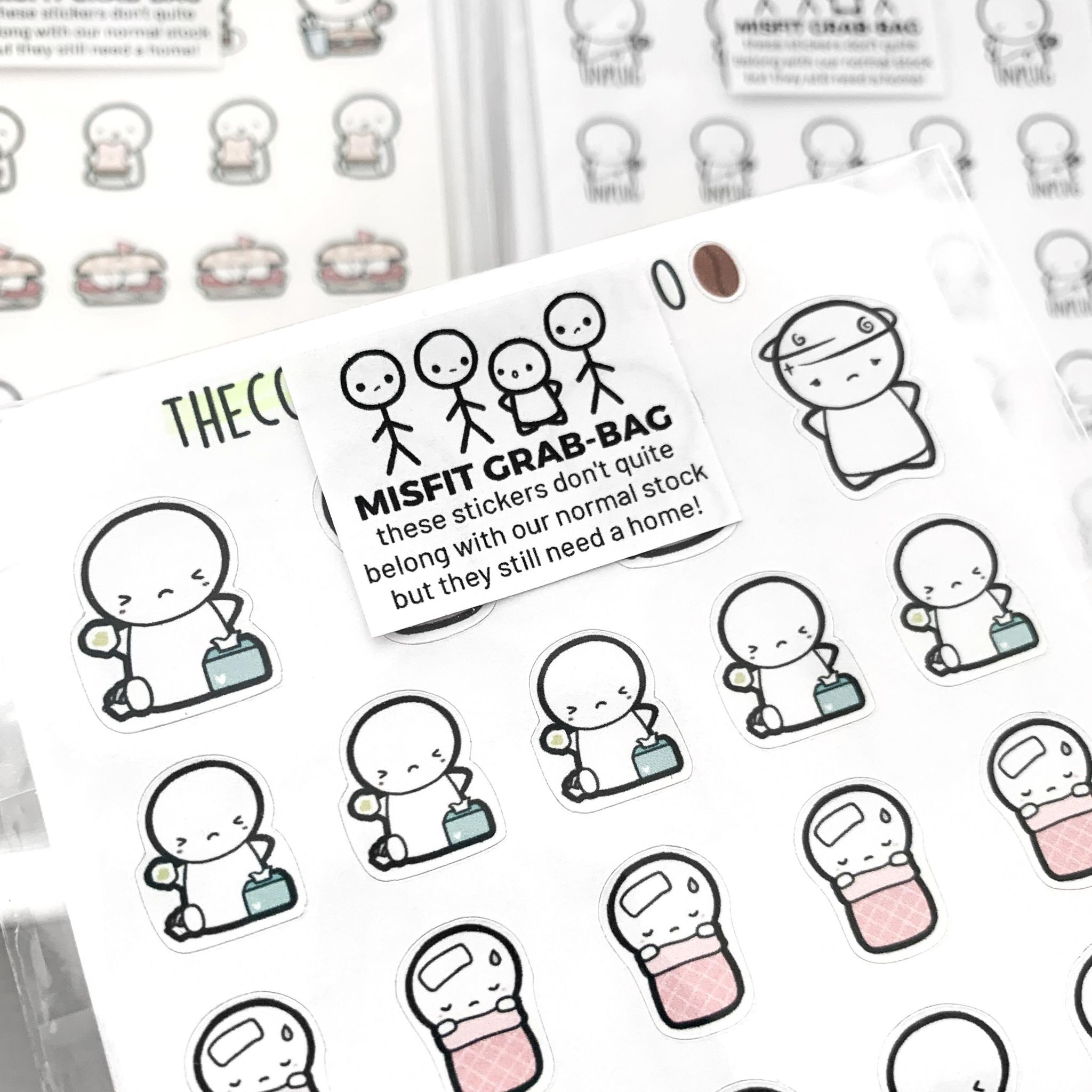 Misfit Sticker Grab-Bag - 1 PER CUSTOMER
One per customer, per type.
We do not accept returns/exchanges for imperfect items as that is the reason why the stickers are discounted. We also do not accept any requests for specific designs. Sheets are prepackaged at random.
For kit grab-bags, while we try to include multiple pages from the same collection, there is no guarantee of a full kit. We try to curate it so that the items go well together.
This misfit sticker grab-bag comes with sticker sheets discounted by more than 50-65% off! Possible issues that make these stickers misfits:
Out of season
Slight off-centered cuts
Slight misprints
Slight difficulties in peeling
Small smudge somewhere
Most if not all stickers are still usable but they just do not measure-up to our inventory standards. 
Copyright © TheCoffeeMonsterzCO 2021
Our standard stickers use matte non-removable sticker paper. Each sheet is kiss-cut for you to use right away! We do sometimes dabble in other fun materials like washi sticker paper, weatherproof vinyls, and more. This will be stated in the description.
Any props shown in the listing photo are not included as part of the purchase. Your product will not be watermarked.
We offer both lettermail and tracked package shipping at checkout. We also have a shipping estimate function on our cart page to get a more accurate price quote!
Our processing times are always listed on the announcement bar at the top of the website to reflect the most accurate estimate.*
Orders are packaged with a free sticker sampler and journaling card, shipped from Canada.
*Preorders are an exception. Please refer to the description of the preorder product for the estimated shipping time.
Misfit Grab Bag - always a surprise!
I got a good amount of stuff I would use and also some sheets that I will probably share with friends. Misfit bags are always a good value
stationery
for all planners
We offer a selection of stickers and planner supplies that can be used to jazz-up any planner. If you need suggestions for getting started, here are our top 10 favourites!
read more