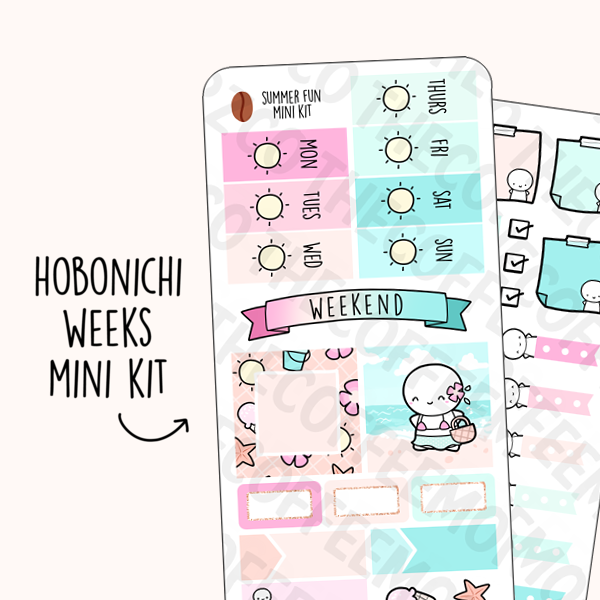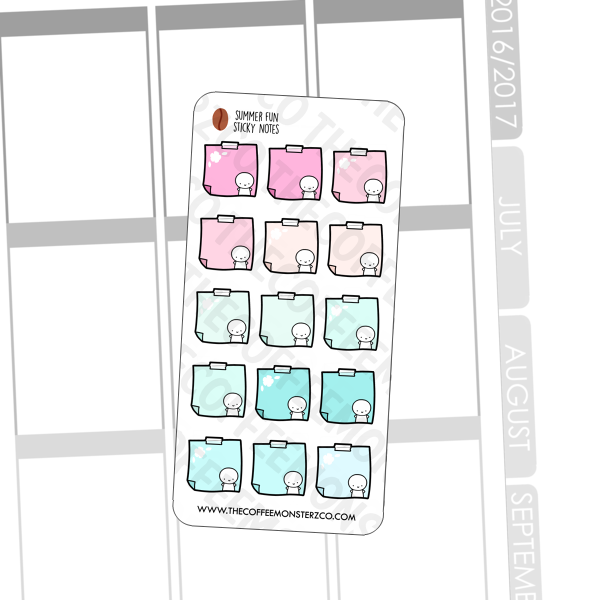 Summer Fun Hobonichi Weeks Kit
These stickers are made to fit the Hobonichi Weeks planners perfectly! Ideal for any other relatively small planners.
Copyright © TheCoffeeMonsterzCO 2021
Our standard stickers use matte non-removable sticker paper. Each sheet is kiss-cut for you to use right away! We do sometimes dabble in other fun materials like washi sticker paper, weatherproof vinyls, and more. This will be stated in the description.
Any props shown in the listing photo are not included as part of the purchase. Your product will not be watermarked.
We offer both lettermail and tracked package shipping at checkout. We also have a shipping estimate function on our cart page to get a more accurate price quote!
Our processing times are always listed on the announcement bar at the top of the website to reflect the most accurate estimate.*
Orders are packaged with a free sticker sampler and journaling card, shipped from Canada.
*Preorders are an exception. Please refer to the description of the preorder product for the estimated shipping time.
Excited
I'm super excited to use these in summer! I absolutely love this kit so much and considering getting another one
Perfect little set to brighten up a plain page
These stickers are absolute perfection. They just fit perfectly in all the hobonichi weeks squares. They add bits of color and just so cute!
BEST KITS EVER
BEST KITS FOR HOBO WEEKS.
Perfect as always ♡
These are so darn cute and perfect for the summer!!! The full box is just too cute!! Cant wait to use this kit the first day of summer in my hobonichi weeks!!
First ever hobo kit
This is the first kit I've ever purchased for my hobo weeks. I've avoided them in the past because I'm older and like a more "traditional" looking spread without too much colour. I decided to get this one as I really liked the colour scheme and wow, is it ever adorable! The pieces are all perfectly cut to fit the small hobo week boxes. What I like is that there is no set way to put the stickers down so you have a lot of flexibility. I didn't use all the stickers on one week spread - using the stickers across multiple weeks makes the already reasonable cost even more efficient! I will definitely get more.
stationery
for all planners
We offer a selection of stickers and planner supplies that can be used to jazz-up any planner. If you need suggestions for getting started, here are our top 10 favourites!
read more