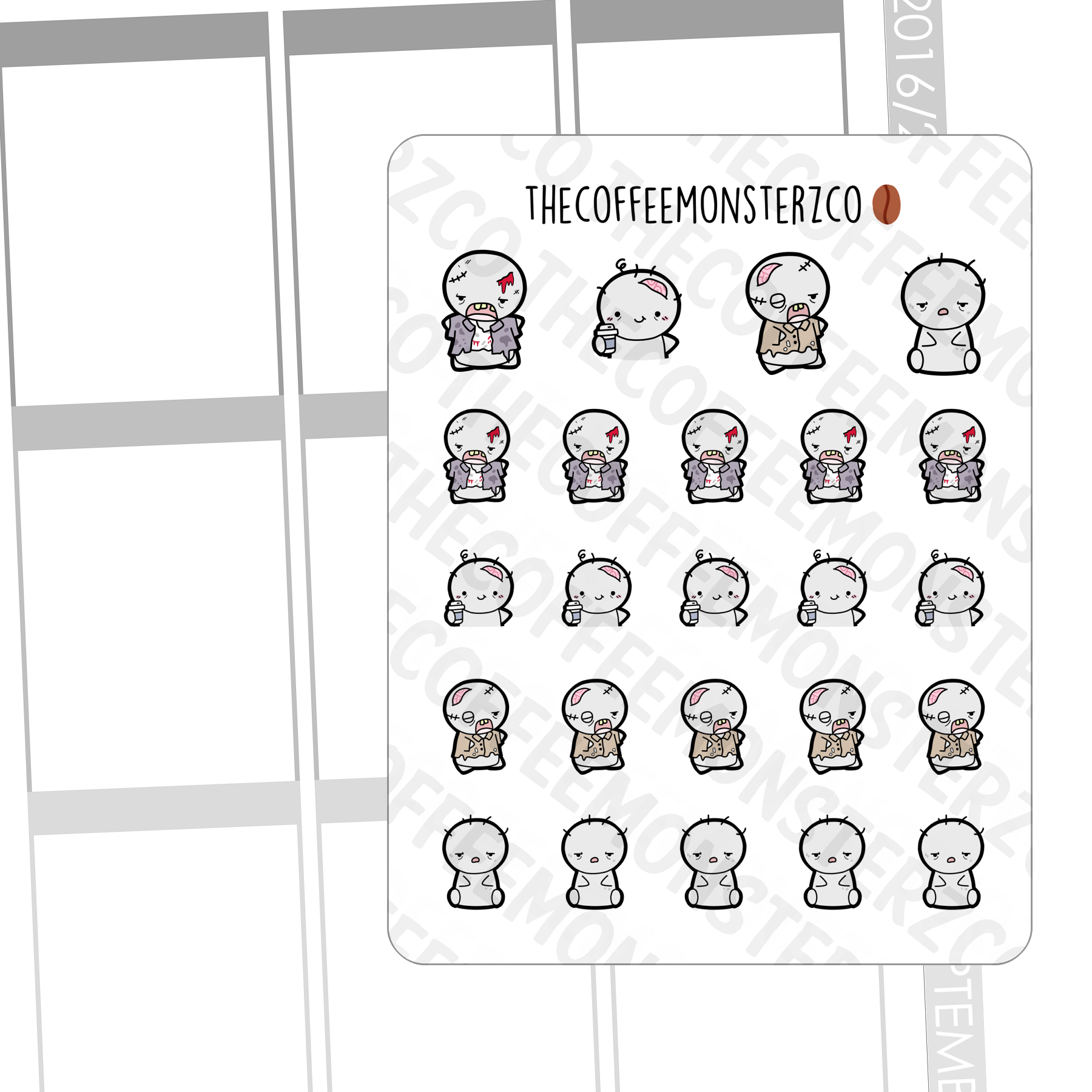 Some scary zombies to mark your tiring days!
Copyright © TheCoffeeMonsterzCO 2021
Our standard stickers use matte non-removable sticker paper. Each sheet is kiss-cut for you to use right away! We do sometimes dabble in other fun materials like washi sticker paper, weatherproof vinyls, and more. This will be stated in the description.
Any props shown in the listing photo are not included as part of the purchase. Your product will not be watermarked.
We offer both lettermail and tracked package shipping at checkout. We also have a shipping estimate function on our cart page to get a more accurate price quote!
Our processing times are always listed on the announcement bar at the top of the website to reflect the most accurate estimate.*
Orders are packaged with a free sticker sampler and journaling card, shipped from Canada.
*Preorders are an exception. Please refer to the description of the preorder product for the estimated shipping time.
Cutest zombies
I love this zombie sheet. Might need to use it for days I haven't slept well. Really cute too
Hilarious
I was initially thinking I could only use these for Halloween or walking dead, buuuut then I started using the for mornings when I was really tired. 😂
Really cute!
I decided to use these when I'm exhausted. Love them!
Using to mark my walking dead episodes
Great quality, very fast shipping, just overall awesome shop and stickers!
Are you a mom? then these are perfect.
Momzobie. We have all been there. Those times were you are unsure if you're living and functioning slowly. These are perfect!!!! For those early AM apts that take your sleep. Those late night activities? Perfect!
stationery
for all planners
We offer a selection of stickers and planner supplies that can be used to jazz-up any planner. If you need suggestions for getting started, here are our top 10 favourites!
read more